Think: Missions Conference + Family Reunion + Old School Revival
The first weekend in June we will be gathering together to celebrate Pentecost as well as James Island Christian Church's 35th anniversary! The same weekend we will have two of our missions partners joining: Onesphore Manirakiza and Ali Arhab. They will be imparting wisdom and encouragement to us through the weekend. Friday and Saturday nights will be worship, teaching, and ministry time. And we will be having a BBQ lunch and baptism after Sunday Worship. We would love for you to join us!
Friday 6:00-8:00pm
Worship
Teaching by Onesphore
Ministry Time
Saturday 6:00-8:00pm
Worship
Teaching by Ali
Ministry Time
Sunday 10:00am - 1:30pm
Testimony + Q&A with Katelyn
Sunday Worship
Testimony by Ali
Sermon by Onesphore
Baptisms + BBQ Lunch
First, if you have children and will be attending either the Friday or Saturday evening session, we need you to RSVP your kids for childcare, so that we can appropriately prepare.

Second, we need people to help during Sunday lunch. There are positions to help Lew Robertson prep the plates with food, help with drinks and clean up, and we are also having a desert potluck that we would love for you to bring a dessert to share!

Third, part of our celebrations during pentecost weekend, is that we will be baptizing people after church. If you have been thinking about being baptized, or have a child that has been asking questions - we would love to walk with you through this decision!

You can respond to all of these in the block at the end of the page.
Onesphore is the Director of the Antioch Foundation and a leader in his local church and throughout the nation of Burundi. In this capacity, he works with local churches to raise up the next generation of leaders to strengthen and multiply the church. Onesphore and his wife Innocente have four children – Jim, Deborah, Daniel and David.
The Arhabs live in France where Ali bases his international ministry. A former Muslim, he now devotes his time to church based theological training -- including the translation of theological education materials and the mentoring and multiplying of local church leaders throughout North Africa.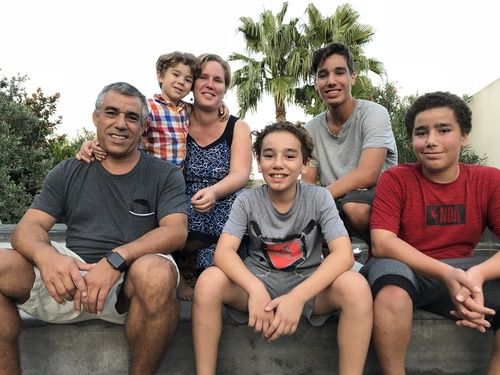 Katelyn is a nurse who is working in Mango, Togo (Africa) at Hospital of Hope. Her mission is sharing the Gospel with the wonderful people of Mango and the surrounding villages through contacts at the Hospital and just simply living life with the Togolese. Her relationships are predominately with Muslims as that is the dominate religion in Mango. The Lord has provided an opportunity to start a Bible study with one of her Muslims friends. She is praying that others will become open to studying Gods word as well! The harvest is very plentiful in Mango and she is so grateful that the Lord has placed her there for this time to share His love.
We are recruiting childcare workers -- both inside and outside of our church -- to fill paid positions to care for our children. If you know someone who would like to be contacted about paid childcare positions, please follow this link! These positions will be both Friday and Saturday night.
For our Friday and Saturday night events, we will be hiring additional helpers along side our JICC supervisors to serve kids through out the different events this weekend.

Please RSVP for your childcare needs on Friday + Saturday.
If you're available to help prep food, set our drinks, clean up after lunch, or bring a dessert to share - please sign up to join the team!





If you're interested in being baptized after church on Sunday, June 5th, please click the link to fill out the form.