Go therefore and make disciples of all nations
THE MANIRAKIZA FAMILY | BURUNDI

Onesphore began Harvest for Christ ministries in 2001 at the University of Burundi with a group of his classmates. HFC's mission is to develop mission minded leaders to serve the underserved and mobilize young leaders to serve in their local context. In 2015, Onesphore gave his car and salary away to a young leader he has been developing to direct Harvest for Christ. Onesphore still serves as the president of the board, but has moved his leadership into the local church to facilitate the process of revitalizing the local church and developing indigenous church leaders. To accomplish this task, Onesphore has partnered with JICC to begin a church based theological program in his local context.
Onesphore and his wife Innocente have four children – Samuel, Deborah, Daniel and David.
ARHAB FAMILY | NORTH AFRICA

The Arhabs live in France, and Ali is a leader in the Antioch School in North Africa. He is involved in television and radio broadcasts, the translation of theological educational materials, and the training and equipping of church leaders.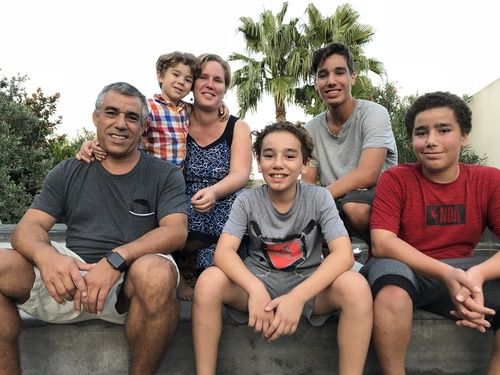 THE GUILLEBAUD FAMILY | BURUNDI

Simon Guillebaud was called to serve in Burundi in the midst of their civil war in 1999. He risked his life to travel around the war-torn country and preach gospel to a nation divided. His wife, Lizzie, and three children, Zac, Grace, and Josiah, now partner with him on mission in Burundi. Great Lakes Outreach partners with numerous Christian ministries in Burundi to support them in their strategic service of over 75,000 people throughout the country.
Simon spearheaded the development of the Kings Conference Center, which is now the most successful hotel in the country. This Christian enterprise funds Scripture Union, which was Great Lakes Outreach's first partner in Burundi. The Kings Conference Center models Godly business practices for a nation that expects corruption.
THAILAND TEAM | THAILAND

Chris and Paige and their four children were called to Thailand in 2008. Their service is focused on planting churches and training up and sending out leaders to plant more churches in Bangkok and the central Thai region. The Thai people are one of the most unreached people groups, with less than one percent of the population professing faith in Christ. They have been blessed in seeing the fruit of a few Thai nationals leading new church plants. Their greatest need in growing their ministry is people to serve alongside them.

James and Kara are on their first two year assignment in Thailand (Currently in Chang Mai) — they are focusing on learning the Thai language and understanding the people and culture while they share the gospel with their neighbors. Their desire is for this assignment to prepare them to permanent work in in Thailand.
THE HOLMES FAMILY | CHAD

The Holmes family has followed God's call to work as Bible translators among the peoples of Chad. Trained as linguists, their ministry is a collaboration with Chadians to translate the Bible into the most widely spoken language in the country - Chadian Arabic. Rob and Claudia have worked in Chad since 2002 and have seen several of their friends follow Christ over their years of language study and bible translation. In 2013, they and their team celebrated the New Testament dedication in an event attended by the Prime Minister of Chad. The New Testament has sold over 20,000 copies so far. Translation of the Old Testament is now their focus. One of the most exciting times for the Holmes family was working on the audio drama recording of the New Testament with Faith Comes by Hearing. Rob kept "Paul," "Luke," and "Jesus" on the ball as they recorded, and Claudia kept all the readers fed. The recording is now a tool for many ministries in Chad and Chadians can even listen to the Scriptures on their cell phones. As people all over Chad read and hear the Gospel, please pray for this 'seed' to fall on good soil!
SAM & MORGAN KNOBELOCH | UGANDA

Sam and Morgan moved to Jinja, Uganda in August 2017 for Sam to begin working as the Project Engineer for Water Mission Uganda. They will be there for at least two years.
we believe everyone of us is a missionary where ever we are.
help us support those who feel called over seas to take the gospel to foreign soil
In response to God's Word, our church mission is to glorify God by making disciples of all peoples. We partner with many different communities, organizations, and individuals (locally and globally) to accomplish this disciple-making vision.

There are 1.8 billion unreached people living in the world currently. As motivating as this number seems, our true motivation comes from Christ's words,"Love the Lord your God with all your heart and with all your soul and with all your strength and with all your mind; and love your neighbor as yourself" Luke 10:27. He states this in the context of speaking about the Good Samaritan, a foreigner. When loving our neighbors, wherever we live, this certainly includes the nations.
Encourage our active missionaries
Write and encouragement, question, or prayer and we'll connect you via email.